Harris Gilmore Recycling, registered with the Recycling Council of BC, and listed with Victoria's CRD, My Recyclopedia page, is a private company that specializes in collecting and recycling used toner cartridges of all makes and models, (eg; HP, Lexmark, Canon, Brother, Dell, Samsung etc), from printers, fax machines, photocopiers, and inkjets.
Harris Gilmore Recycling is also a

Authorized Cartridge Collector. All used Lexmark toner cartridges are picked up, and shipped direct to Lexmark in return for a fee from Lexmark as part of their licensing agreement for toner cartridges.

Donation Program - Occasionally, full cartridges are received from offices that have replaced old printers. Harris Gilmore Recycling donates full cartridges to charities that have those printers.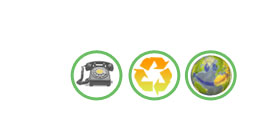 New!! Harris Gilmore Recycling is pleased to announce that all used cell phones will be accepted for free recycling.