Harris Gilmore Recycling, registered with the Recycling Council of BC, and listed with Victoria's CRD, My Recyclopedia page, is a private company that specializes in collecting and recycling used toner cartridges of all makes and models, (eg; HP, Lexmark, Canon, Brother, Dell, Samsung etc), from printers, fax machines, photocopiers, and inkjets.
Harris Gilmore Recycling is also a

Authorized Cartridge Collector. All used Lexmark toner cartridges are picked up, and shipped direct to Lexmark as part of Lexmark's licensing agreement for toner cartridges.
FREE. NO SALES PITCHES.
Harris Gilmore Recycling does not sell anything to the general public.
RECYCLING PROGRAM
Cartridges are processed, (all packaging materials removed and recycled), inspected and sorted. Local remanufacturers, (on Vancouver Island, Greater Vancouver and BC's interior), are supplied directly with clean, inspected, used toner cartridges for remanufacture. Remanufacturers in other parts of Canada, and in the U.S., are also supplied with used toners.


Concerning used Lexmark cartridges, Lexmark Canada has an extensive recycling program that includes remanufacturing. All Lexmark toner cartridge parts get recycled in one form or another. www.lexmark.ca


Non Re-Usable Cartridges, drums, toner bottles, etc., that are of no value are either;
a) Broken down and recycled by Canadian remanufacturers or plastics recyclers
b) Shipped in bulk to the original manufacturer for proper recycling under their recycling programs, (HP, Canon, Ricoh, Xerox, etc).


Packaging materials; Cardboard, plastic, (soft and rigid), paper, styrofoam, metal, glass, are all recycled locally and the recyclers adhere to strict environmental regulations
CELL PHONE RECYCLING
Harris Gilmore Recycling is pleased to announce that all used cell phones will be accepted for free recycling.
DONATIONS PROGRAM
Occasionally, full cartridges are received from offices that have replaced old printers. Harris Gilmore Recycling donates full cartridges to charities that have those printers.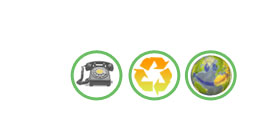 Yours sincerely,